What To Look For In A Vehicle Wrap Provider: Why Choose Wrapture
Oct 19, 2020
by Wrapture Graphics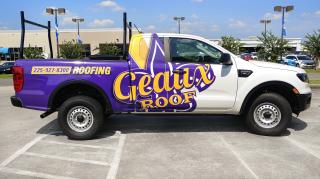 If you want to wrap your vehicle or a fleet of business vehicles for advertising, getting it right ensures that the wrap lasts longer, and is more appealing. In that case, the vehicle is protected, and you end up a happy client. But how do you ensure you end up with the right provider?
1. Credentials
Does the vehicle wrapper provider have certifications from credible institutions? This shows that he not only has the needed skills, but he takes his work seriously. Also, it's crucial to find out whether the other people working with him are qualified.

Wrapture is 3M-certified to back up what we are selling. Being certified ensures we have up-to-date insurance policies, licenses, and adherence to work policies to prove our professionalism.
2. Experience
It takes more than certifications to make one a qualified vehicle wrapper. An experienced provider understands the need to work with high-grade vinyl and quality ink. They also ensure all the work, including the design, printing, and installation is done within one location because when outsourced, errors or miscommunication may occur, ruining the final results.

Our vinyl installations are done in a controlled environment because heat and debris may ruin the outcome. This is essential to give the wrap adequate time to dry. Our team explains to our clients the need to provide the wrap with ample time to dry to avoid damage.
3. Customer Reviews
A reputable provider keeps a record of past clients' work in their portfolio. Checking this out will not only let you gauge their qualifications but clients' ratings too. You can also check online reviews or directly contact past clients for recommendations.

Here what some of our past clients had to say by checking out some of our testimonials on our home page!
4. Local Provider
It's convenient if you work with a local provider. You save time, and it gets easier driving to their shop if and when issues arise.

If you are looking for a reliable vehicle wrap provider, contact Wrapture Graphics. We have experience designing and installing quality and durable vehicle wraps for cars, trucks, buses, and other vehicle types.